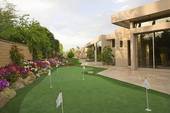 Are very popular especially in Oro Valley. This town of over 40,000 people is just a few miles from the city of Tucson and around 30 minutes from downtown Tucson.
Sun City Oro Valley is a well-known Del Webb retirement community. There are approximately 2400 homes/home sites and over 4,000 in population. The minimum age is 55 but has been reduced to 45 years, for up to 15% of the community. Vistoso Village is a smaller community of homes nestled in the town of Oro Valley. They also have their own pool, clubhouse and social amenities.
What draws so many people to Sun City Oro Valley? One of the draws is the Town of Oro Valley. Oro Valley has beautiful subdivisions, newer shopping centers and great health facilities like the Oro Valley Hospital. Oro Valley is not far from the city of Tucson. Even if you want to live in the town of Oro Valley, you can enjoy the city life just a few miles down the road.
This takes us to the community of Saddlebrooke, north of Oro Valley. This is a large adult community with 2 golf courses, state of the art clubhouses and pools. They also share the perks being close to Oro Valley. The newer Market Place shopping center and Oro Valley Hospital are close by to Saddlebrooke. Going westward from Oro Valley, there is another popular adult community called Heritage Highlands. This is a newer development in the famous Dove Mountain subdivision. They also have a beautiful clubhouse and pool and golf course surrounded by mountains and city lights.
Any questions on the Retirement communities in Tucson, please call Susan Weisman at (520) 465 2020.