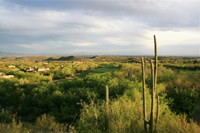 Tucson Arizona is a great place for retirees to come relax and enjoy a great game of golf. We have a huge golf community that is only ever expanding as well as a wide variety of golf courses and clubs for you to choose from. You can even find golf real estate to buy, own, and sell. Tucson golf homes in the North, Northwest, extended Northwest, West, East and Northeast areas all have a common quality. You will experience the magic of the great outdoors in Tucson Arizona. The golf, walking trails, hiking areas, biking paths are just one part of the magical experience living and buying property for sale in retirement communities in Tucson.
Our famed mild and sunny weather and golf courses just adds to the magic of owning a home for sale in Tucson Arizona. The sunny weather here too is usually pretty consistent so it is almost guaranteed that you can golf on a regular basis.
Plus there is also an expanding community of golfers to chat with about the sport and exclusive clubs to join. You can come visit our premier golf courses, the Westin La Paloma, Ventana Canyon, Starr Pass, Omni Tucson National, Gallery of Golf Club, Stone Canyon, Canyon Pass, and the newest member, the Ritz Carlton Golf Club. BuyingTucson golf real estate is truly a rewarding experience for avid golfers.
Many out of state buyers are purchasing a new home in Tucson at the Ritz Carlton Golf Club. Now is the time to invest in Tucson golf real estate while prices are low especially. It is located in the Far Northwest, with the background of the Tortolita Mountain range and spectacular sunsets and city lights.
Favorite retirement golf communities and with wonderful community clubs are Saddlebrooke, Sun City Vistoso, Heritage Highlands, and the Golf Club at Vistoso which truly makes Tucson a golf home to remember. Retirement communities in Phoenix and the surrounding areas are full of golf properties to choose from.
| | |
| --- | --- |
| Choose a Golf Course: | Choose a price range: |