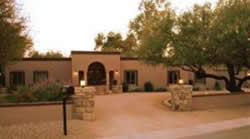 There are many retirement homes in Tucson that provide the people living there with a gated community. Crime in this city is pretty low in general, but it never hurts to have an extra secure peace of mind. The Northwest area of Tucson has many newer subdivisions and gated communities than other areas of Tucson. First of all, this area, Northwest Tucson is a young and growing area in comparison to the North, East, and Central Tucson. Northwest Tucson, Marana and Oro Valley Arizona are constantly expanding due to ample land developments and their progressive town initiatives.
The retirement homes in Tucson, AZ are ever growing with friendlier neighbors and a larger community. Our retirement communities provide many opportunities for seniors to relax, but also provides them with both outdoor and indoor activities to enjoy. There is always something to do in Tucson.
Northwest Tucson has many gated subdivisions and communities within Oro Valley and Marana. The Gated homes in Tucson for sale in Arizona subdivisions include resort style living golf communities, retirement communities, adult communities, townhomes, patio homes, and condo communities. Homeowners like homes in Gated Communities because they offer community pools, clubhouses and park like settings. Often times these communities are run by an association so things like landscaping are included in the association fees. View our listings for an amazing selection of Tucson homes for sale.
Outside of these communities there is a plethora of exciting and relaxing activities for retires to do. You can enjoy the great outdoors by going on hikes, fishing, hunting, (in designated areas), or even going off to enjoy a nice game of golf. There are many golf courses to play at here and even more golf clubs to join so you can relax and enjoy a nice day at the course. There is always a ton to do at these adult retirement communities in Tucson, and with three hundred days of sun and fun you will never be bored even as you relax.